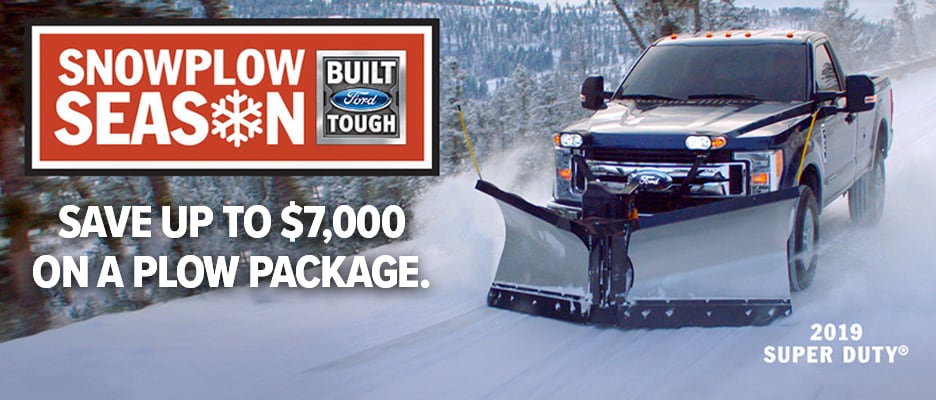 Overview
Snow happens, and New England can sure get a lot of it. But knowing that you're self-sufficient when it comes to moving that snow can make winter more enjoyable. Not only will you be able to control when your driveway is cleared, rather than waiting for a hired plowing contractor to show up, you'll save money as well. Or, you might be a plow contractor yourself, and you know you need the most solid setup available. So, if you're in the market for a full-sized Ford pickup, be sure to add the Snow Plow Prep Package. This important option bundles everything your F Series truck needs for carrying and operating a plow attachment, from the electrical components and software to more substantial suspension components to bear the extra weight.
---
What Can Your Ford Handle?
The F-150 is perfectly suited for general plowing, especially since Ford has incorporated more high-strength steel and military-grade aluminum into this generation of its best-selling vehicle, saving weight while making the truck more robust. The heftier F Series models are better for professional plowing contractors who work extensively for hours at a time. The F-250 line and up can take a heftier plow blade and perform like the specialized workhorses that they are, thanks to their heavy-duty transmissions and suspensions. The Plow Prep Package contains the upgraded alternator that a truck needs when it has to devote a lot of electrical power to raise and lower a plow blade and move snow. Its role is to keep the electrical systems well charged so that there's no loss of power to accessories like the headlights, heater, defroster, and windshield wipers – things you certainly don't want to be without in winter weather.
It goes without saying that you'll get the best traction from a four-wheel-drive truck equipped with winter tires with ample tread. Pickups with the standard four wheels perform better in snow than "dually" versions (six-wheel pickups with two pairs of wheels on the rear axle). It's also crucial to use a properly sized plow; one that's too large can strain the truck's front end while also reducing plowing effectiveness and handling. If you haven't bought a plow attachment yet, note that just one brand, Sno-Way International, has been approved by Ford for use with the F-150.
---
What's in the Ford Snow Plow Prep Package?
Ford has set up the Snow Plow Prep Package with all of the elements a truck needs for optimal plow operation. Mechanically, there are upgraded computer-selected springs made to take on the extra weight (as much to a half-ton) and the aforementioned heavy-duty alternator. Also included are the software and electrical components (wiring, controls, etc.) needed for plow blade operation. The prep package isn't just crucial for your best plowing – it also plays a part in maintaining your warranty coverage. Aftermarket alterations (such as installation of a non-Ford plowing prep setup) can cause warranty coverage to be void. Also, some plow installation professionals may turn down a customer if their Ford pickup is not equipped with the factory-installed plow prep package.
---